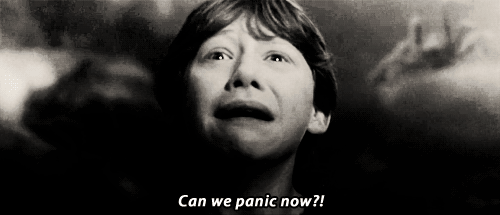 No, Ron. Never.
I was looking at safe/panic rooms, and this gif came up. It resonates with me on a wholly limbic level. I wonder how many times this has been playing inside me while on the outside all you see is this.
Though I'm making great strides with myself, I am in a constant state of panic these days.
My brother's wedding is in three weeks, and I've told him I'm going to be there. When I said that I didn't realize Ron Weasley would be my plus one.  I'm not ready!
Too bad.
I'm trying to do better at being a woman of my word instead of a people pleaser. It's a tough gig for someone who likes to keep people happy. People at work, people at home, people on the internet, people I stalk on Facebook whom  I haven't met, people who can't be pleased no matter what, AND people who are dead.
(Dust hands) That should cover it.
Aye, aye, aye…
I've decided to work next fall, but a less punishing schedule and fewer hours. I've told myself it is my job to also use my time more wisely, and when people ask me to work for them, I'm to say, "I'm working my other job that day." That's it, nothing more, shut your mouth and walk away.
Today I had fun putting together a box for a reader. I autographed the first book ever. I hope she enjoys reading it and all the little surprises I slipped between the pages. PLUS some ND goodies. I wonder if it's more the relief of a promise kept than the fun of it? Whatever mix of the two, it made for a good day.
This was also a good week for BTS, Billboard's BEST GROUP (beating out Imagine Dragons, Maroon 5 and Panic at the Disco!) and top SOCIAL ARTIST! Let's all celebrate by watching their new music video Boy With Love guest starring Halsey.
They ROCKED the Billboard stage and Army was there in full glory puzzling the rest of the performers with the BTS Fan Chant. LOVE IT! My girls and I are a bit sad we aren't going to a stadium this weekend or next… sigh. NEXT YEAR, yeah, we're totally going again, when this isn't such a good depiction of us.
On the writing front, I'm considering releasing a book called Oasis. It's an erotic novel that I really love. Stupid Chapter 10 is still giving me a pain when I read it, so I'm considering a few small changes, but otherwise, it's a pretty cool story. The main characters are a disenchanted Knight of the Crusades and a woman sold into an Arabic harem as a teenager who has done her time and is heading back home to England on her stolen horse. The most beautiful horse I could find for her. A Lusitano Silver Buckskin Stallion named Belial.
I want to write about adoption as well but haven't decided if I should approach it as Fiction or Non-Fiction. Feeling the influence of all the K-drama's I've been watching, I even thought about writing the story of a Korean who arrives in Seoul for the first time at the age of 38. So many possibilities.
But first, my younger brother's wedding. Maybe an afternoon with my Mom's oldest sister, and finally meeting the cousin who helped me put all the pieces together on Ancestry.  I hope this roller coaster has shoulder straps. Where are my sunglasses? Hmm, maybe a bucket by my feet, a perfect playlist peppered with K-pop…